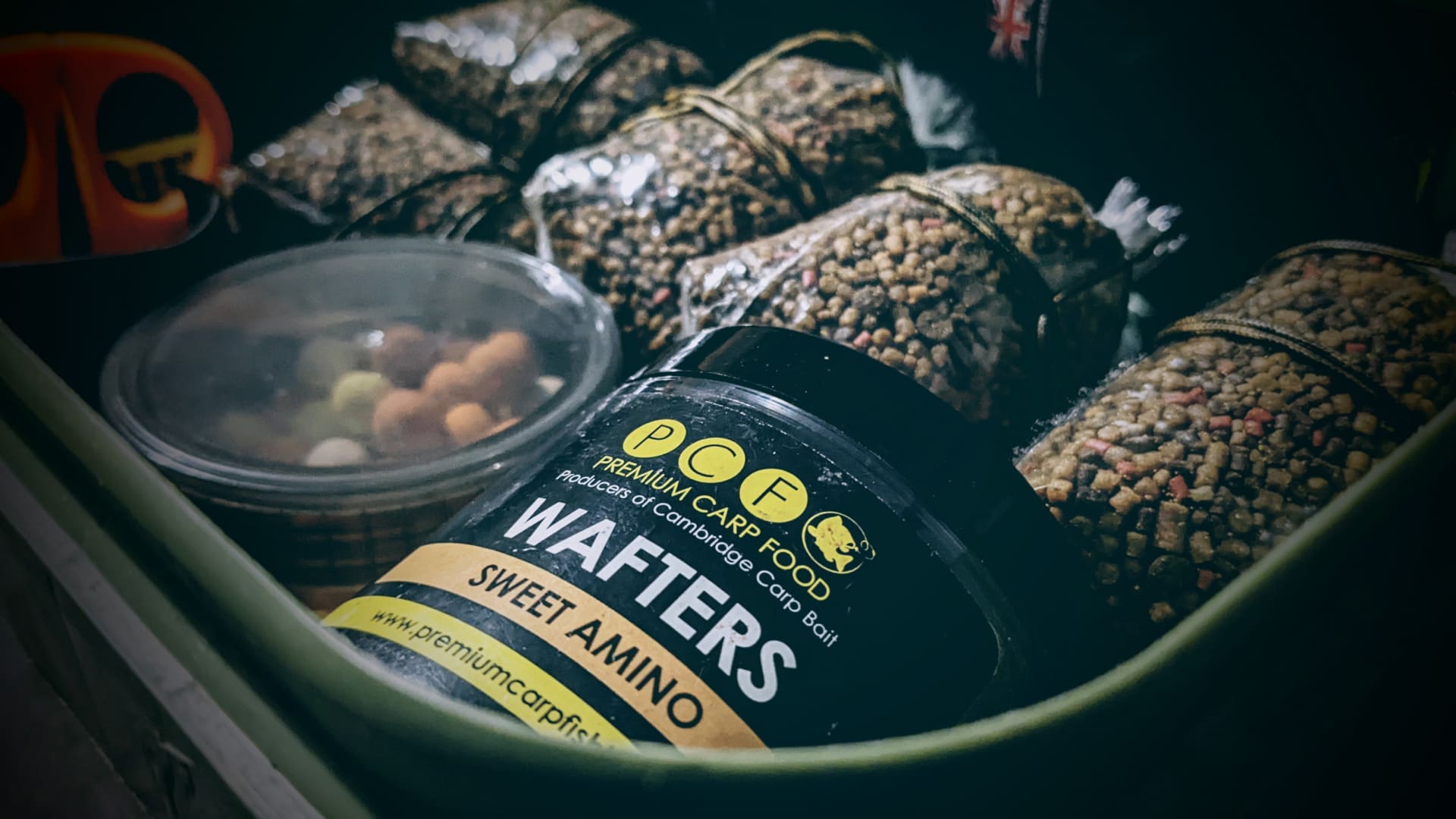 Why choose...
Premium Carp Food
We use only the best available food-sourced ingredients for our carp fishing bait and carp boilies. You'll find no dyes or artificial flavours and only human grade stabilisers.
our promise
Carp bait & boilies you can trust
Premium Carp Food has aided towards the captures of many big carp in the UK and abroad. We only use high quality ingredients that we know carp seek out and love. Our range of carp fishing bait and boilies has something for everyone.
stunning venues
carp fishing lakes
Our portfolio of carp fishing lakes are located in and around Cambridgeshire. With day ticket lakes, private booking and syndicate carp lakes to choose from, you're spoilt for choice with Premium Carp Fishing. Check out each carp venue to see what they can offer you.
Premium Carp Fishing FAQs
We aim to dispatch shelf life boilies and all other non-frozen products within 24 hours of receiving your order. Fresh for freezing boilies are normally dispatched within 7 working days. You will receive an email confirming a delivery date. Please note that due to the on-going effects of COVID some delays may occur but these are few and far between.
The answer to this depends on what's comfortable to you. Some anglers prefer shelf-life meaning the can just grab a bag and go without the need to thaw the bait first. Where as others will prefer to keep a larger quantity of bait in their freezer allowing them to keep the bait longer. Fresh-frozen bait will need to thaw out before use, but you have the added option here of soaking the boilies in natural water and a Liquid Enhancer to further boost the baits attraction.
No, not at all, infact many of our customers have success choosing to use one of our Supreme pop ups which are a completely different flavour. Where as others prefer to blend into the offerings. It's all down to your own style and what you've had previous success on.
If you join TeamPCF you'll automatically get a discount for joining our gang. Not only that you'll also get offers to join the private Facebook page where you'll be first to know about new products, be invited to exclusive socials and hopefully make a friend or two. Click on the TeamPCF page in the menu to find out more!
Absolutely not, infact we always recommend you use whatever bait your comfortable with. It's no secret we sell bait, but we don't use our venues to push our products on anyone. That said, we might like you a little bit more if you do choose to buy from us :-)
On each product page you'll find a list of ingredients that we use within each item. Exactly how much and in what method we use these ingredients will remain our little secret but you can be assured that we do not use any dyes, artificial flavours or preservatives in any of them.
This all depends on how you treat the boilies before, during and after use. With shelf life boilies if you make sure to reseal the bag each and every time then store them in a cool, dry place you'll get the longest period of use from them. If the shelf life boilies have been glugged or washed out these can be drained off and placed in the freezer for another use. It's the same with fresh frozen boilies, you can also re-use these another time if they are re-frozen correctly. Eventually both shelf-life and fresh frozen boilies will go off.
★★★★★

It's no coincidence that I've caught more and bigger carp since switching my bait to PCF, there's no doubt it's the best bait and boilie company out there!

David Patching
★★★★★

I've been with PCF for a few years now and it has been a pleasure. Great carp fishing bait, great service and a great group of lads who are always happy to help. Not only competitive prices but a great business too.

Darryl Tiling
★★★★★

Ive been with PCF for a fair few years now and its been nothing but great. PCF have been a big part of my carp fishing captures and I put it down to the quality ingredients in all of the bait on offer

Andrew Southby
★★★★★

After being very disillusioned with carp fishing I discovered PCF and they put the faith back into me. Great carp bait and boilies at sensible prices. Not only that but stunning carp fishing lakes too!

Steve Grantham
★★★★★

Big thanks to Gary and the team for producing a carp fishing bait I can be confident in using anywhere I go. wallet-friendly prices and carp-catching boilies, what more could you ask for.

Brian Elsom